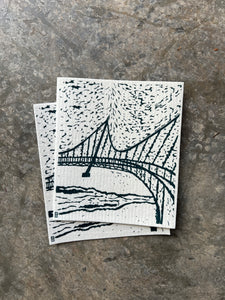 Liberty Bridge Swedish Dish Towel
Regular price
$10.00
$0.00
Unit price
per
This Swedish dish towel highlights one of my favorite woodblock prints of Greenvilles' Liberty Bridge overlooking the Reedy River Falls downtown.

𝗘𝗔𝗦𝗬 𝗖𝗟𝗘𝗔𝗡𝗜𝗡𝗚 – Our printed cellulose dishcloths are perfect for wiping surfaces, washing dishes and mopping up spills as well as using for bathrooms, offices, countertops, furniture, car, plants and windows. Super absorbent, absorbing upto 20 times more liquid than its weight! Fast-drying, and no odor if cleaned immediately. Perfect for wet dusting and it leaves a streak free surface. Clean dishcloths in washingmachine or dishwasher and reuse.

𝟭𝟬𝟬% 𝗕𝗜𝗢𝗗𝗘𝗚𝗥𝗔𝗗𝗔𝗕𝗟𝗘 & kind to the environment. No chemicals, no landfill. Made from natural, sustainable materials, 30% cotton, 70% cellulose wood pulp and compostable, our kitchen wash cloths are perfect for both your home and the planet.

SAVE MONEY – No more disposable paper towels, wipes or kitchen sponges. Our printed dishcloth does the job and can be used over and over again. Each dishcloth will last at upto 8 weeks and can be washed several times. This versatile little cloth replaces all those dish rags, kitchen cloths, sponges, cleaning cloths, and more. Save money and save the earth in one go!

𝗧𝗛𝗘 𝗣𝗘𝗥𝗙𝗘𝗖𝗧 𝗚𝗜𝗙𝗧 - Our cellulose dishcloths with modern prints are the perfect gift for interior lovers and those with a passion for the environment. Using striking, unique patterns in contemporary colors our dish cloths will complement the most elegant of homes. Our exclusive dishcloths are conveniently packaged in multiples to work perfectly as a gift for you or for a friend.
This Swedish dish towel highlights Greenvilles' Liberty Bridge overlooking the Reedy River Falls downtown.
This marvelously absorbent dish cloth from Sweden is a wonder in the kitchen. You'll never want to go back to sponges or or regular cloths when you see how it works. It softens when wet, cleans kitchen surfaces virtually Street free, and washes and dries like a dream. Made of earth friendly 70% cellulose and 30% cotton, it's durable (just wash it in your washing machine).
DETAILS:
+ 70% Cellulose + 30% Cotton
+ Printed version of an original Print by ©DouglasPiperArt
+ unfolded, the tea towel is approx 28" x 29"
+ Machine Washable, Dry flat

All rights reserved. Images may not be reproduced, copied or sold. Please Be kind.

All images and material Copyright 2022 Piper Printing. All rights reserved. Buyer is not entitled to reproduction rights and Copyright is not transferable with the sale of this print.
---
Share this Product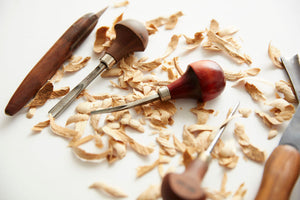 ---